~General Information~
Name: Tenshin Ten
Nickname/Alias: Tenal , Ten , Tenny
Weight: 130 lbs
Height: 5'6"
Age: 17
Gender: Male
Appearance: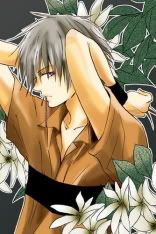 Clothing: (Look at pictures)
Personality: Tenshin is nice though very quiet for some reason but nobody knows why. Tenshin doesn't like talking to people too much Tenshin Ten is a smart strong ninja he has a great personality as I described.
~Clan Information~
Clan Name: Nara Clan
Kekei Genkai: Possesing the shadow powers to control their body.
Clan Symbol:
~Rank/Village Information~
Classification: Akatsuki ( has earned mod ITAKE KYUUBI WROTE THIS)
Village:
Sand
X
~Skill Information~
Skill Specialty: Ninjutsu Genjutsu Taijutsu
Elemental Affinity: Fire , Sand , Shadow
Special Characteristics: Controling The body
~Jutsus~
~Shadow jutsus~
Spoiler:
~Fire Jutsu~
Spoiler:
~Sand Jutsus~
Spoiler: